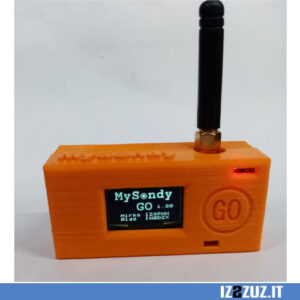 ---
Hello everyone!


Mirko IZ4PNN  have created a Support FORUM 
for MySondyGO ang other MySondy projects.
You too can partecipate to receive/offer assistance,report bugs or to give us your advice.
you can register immediately, registration is open to averyone and free!
---

Mirko Dalmonte (IZ4PNN)
iz4pnn@gmail.com
In collaborazione con Aldo Moroni (IW2DZX), Jordan Antonio Provesi (IZ2ZUZ), l'Ing. Achille De Santis (IU0EUF) e Anthony Le Cren (F4GOH).
MySondy GO v2
In questa pagina troverai tutto ciò di cui hai bisogno per rendere il tuo MySondy GO.
MySondy GO funziona grazie a un TTGO Lora32 433Mhz (link di acquisto sotto) e all'app MySondy GO disponibile gratuitamente sul Play Store (solo versione Android).
DOWNLOAD
I manuali in Italiano a cura di Aldo Moroni (IW2DZX)
I manuali in inglese – Grazie a Richard
Los manuali en español – Gracias a Miguel Iborra (EA4BAS)
Maluals en français – Merci Olivier Noverraz (HB9BBN)
L'importanza della funzione TUNE – NOVITÀ
File di installazione v2.30 -NUOVO-
(Nuovo strumento di download flash 3.8.7)
Solo l'ultimo firmware v2.30 -NUOVO-
API MySondy Go per sviluppatori -NUOVO-
Presentazione a cura dell'Ing. Achille De Santis
Migliorare la ricezione a cura di Aldo Moroni (IW2DZX)
NOVITÀ SULLA VERSIONE 2.3
Due porte seriali aperte (guarda MySondy Go API) grazie a Gilles (F4IOP)
S-Meter sul display
Invio degli ultimi dati ricevuti all'App
Miglioramenti e correzioni di bug
Custodia per stampa 3D realizzata da Zvone Pivk (S52O)
Per acquistare la custodia o un MySondy Go pronto all'uso realizzato da Jordan Antonio Provesi (IZ2ZUZ):
Link per acquistare il TTGO Lora 32 (scegli la versione 433Mhz).
AUTISTI:
CP2104: scarica
CH340K: scarica
CH9102F: scarica
(Gli autori non ricevono denaro per le vendite generate da questo collegamento.)
Copyright © 2021 Mirko Dalmonte.
Tutti i diritti riservati.
I contenuti di questo sito (testo, grafica e software) non possono essere riprodotti senza esplicito consenso scritto.